See Strawberry Shortcake, The

Berryfest

Princess this weekend!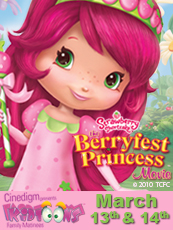 This weekend, March 13th and 14th, the Showcase Cinema in Randolph is showing Strawberry Shortcake, The Berryfest Princess as part of their Kidtoon films program. The movie is playing Saturday and Sunday at noon, admission is $3.50. You'll also get a coupon for a $3.50 Kids Go Box. Movie is rated G and is only 63 minutes long. Fun!
I became a friend of South Shore Mama's on Facebook and it is a great link to tons of kid friendly activities on the South Shore. Check them out. They have some cute ideas for Saint Patrick's Day.